Ezra Charles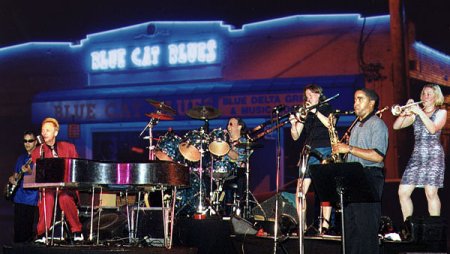 Ezra Charles & His Band are truly a unique phenomenon: a blues-based original-music band that has flourished on the Gulf Coast for over 12 years, continuing to expand their territory and win new converts to their hard-to-categorize sound and show.
Ezra Charles is Houston's best-known keyboardist, winning the Houston Press Readers Poll Award in 1993, 1994, 1996 and 1999 for Best Piano/Keyboards and similar polls in Public News, an alternative Houston paper, in 1988, 1989 and 1990.
Music played by the band consists primarily of Ezra Charles songs from their four albums, Design For Living (Boffo Records, 1989), Modern Years (Icarus Records, 1994), Drive Time (Icarus Records, 1996), and Texas-Style (Icarus Records, 1998) along with other original compositions and standards in their appealing rhythm & blues, boogie-woogie, classic rock & roll sound. The recent Swing Movement has given the band the opportunity to shift gears and participate in the highly publicized revival with only a slight twist in their original style, and has revealed the band's talents to a whole new group of younger fans.
Ezra Charles and the Works (their name from 1987-1997) was the official band for the Houston Rockets during the three seasons from 1993-1996. They were a part of the home games in the Summit, playing throughout the games during pre-game, time-outs and half-time; as well as for pep rallies and victory celebrations after both of the NBA championship playoffs; for the 1994-95 season, they were regularly seen in an MTV-style commercial announcing the Rockets road games carried on UPN-20 KTXH.
Ezra Charles & His Band have performed at concerts, media events, fund-raisers, and parties of every description, including private performances for The Rolling Stones, President George Bush and the 1990 Economic Summit, The NBA All-Star Party, Houston Mayor Kathy Whitmire, and the 1992 Republican National Convention.
Members of the band are:
Ezra Charles - Piano, Vocals. Ezra grew up in Beaumont, Texas, and played in his first band at age 14 with Johnny and Edgar Winter. He started his present band in 1983 as a rockabilly trio, adding a horn section in 1985. Ezra is also the songwriter and arranger of the band's material.
Nancy Dalbey - Trombone, Backing Vocals. Nancy joined the band in 1989, responding to a classified ad she saw while looking for work as a model or actress. She got her musical background playing trumpet in the Katy High School marching band and learned trombone after joining up with Ezra. She has never missed a performance since getting in the band over 10 years ago!
Jennifer King - Trumpet, Backing Vocals. Jennifer is the original girl trumpet player for Ezra's band, first appearing on stage in 1986. She was absent from 1993 until 1997, busy having her beautiful daughter Katy, and rejoined the band permanently in 1999. She played trumpet in the Pasadena High School band and was a member of the Cougar Band at the University of Houston.
Damon Sonnier - Saxophone. Damon is the newest member of the band, joining up in October 1999. Damon played in various Houston bands ( Miss Frances and the Rhythm Fish, and the Sonnier Brothers, among others,) along with his twin brother Derek, a trumpet player.
Mike Seybold - Guitar. Mike joined the band in 1996, winning out over about 20 guitarists who auditioned for the position. Mike grew up in San Antonio, and was a student protege of the late Tim Harris.
Brian Goldberg - Drums. Brian is also from San Antonio, and still maintains a part-time residence there. He was part of the Gary Stewart touring band for many years, and his vast experience is a major reason for the tight sound of the band. He first came to Houston in 1995 to play in the house band at City Streets. Hearing of an opening with Ezra's band, he joined up in 1996, and the rest, as they say, is history.
In addition to the on-stage members, the Crew makes it all happen:
David George - Sound Mixer and Road Manager. David attended the University of Texas and completed his course work at U of H, earning a music degree in Voice. After singing with everyone from opera companies to rock bands, David is enormously qualified to make sure the audience always hears the vocals in the mix! Making the band sound great since 1998.
Eric Thompson - Stage Manager, Official Band Photographer. Eric is the first crew member the band has had who also doubles as a Swing Dance instructor. Look for him if you show up without a partner: he's the one dressed just like Ezra!